Active School Flag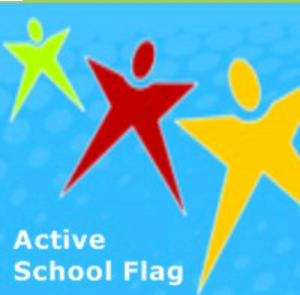 The Active School Flag was launched by the Department of Education in 2009. It is a non-competitive initiative which seeks to recognise schools that strive to achieve a physically educated and active school community.
We are currently in the process of working towards renewing our Active School Flag, which was first awarded to Primrose Hill in 2019. We keep active in many ways throughout our school day such as 10@10, Dance of the Month (danced in each classroom every day!) and the Daily Mile Initiative. We have participated in the Run Around Ireland and Run Around Europe challenges, the Active Breaks Jam Jar Challenge, and have just completed Run Around Ireland 3! We are looking forward to our Whole School Sports Day on 26th May, and then to Active Week which will take place from 29th May to the 2nd June.
We have recently engaged with the Playground Leaders initiative, with students from 3rd, 4th, 5th and 6th Class giving up some of their break on Mondays to teach playground games and new skills to the junior classes.
Check out our Active School Noticeboard for updates!